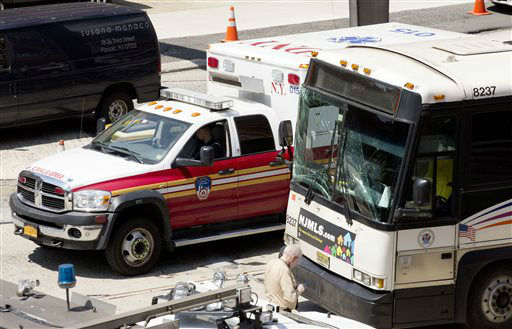 Pictured above: The NJ Transit Bus that crashed yesterday
Yesterday morning, on June 10th, an NJ Transit Public Bus rear-ended a private bus carrying a large group of Canadian middle-school students. The accident happened in the busy Lincoln Tunnel, a set of three tunnels that connect Weehawken, New Jersey, and New York. The bus carrying the 26 students and two staff members was operated by Denny's Bus Lines, a Canada-based bus company. The students had been visiting New York as part of a class trip when a Manhattan-bound NJ public bus crashed into their bus.
Most of the students, however, were uninjured. The NJ bus had an estimated 60 passengers onboard and 30 of those civilians, along with one Port Authority officer, were injured. New Jersey officials were called to the accident to help transport victims. One pregnant woman who was not on either bus went into labor in the tunnel and was taken to a nearby hospital. A second pregnant woman refused medical attention. As of today, the Port Authority has not issued any summon and will continue to investigate the case. The bus driver responsible for the accident has been taken out of service pending the completion of a full investigation.
Pictured below: A map of the Lincoln Tunnel
Legal Commentary
Although uncommon, bus accidents like this one can result in serious injuries. With many more passengers, bus drivers have the added responsibility of ensuring that everyone gets to their destination safely. From a civil standpoint, our firm has represented numerous victims and their families who are affected by a motor vehicle accident. A successful civil claim would enable the survivors and their families to cover any needed medical expenses. A successful claim can also possibly cover any time lost from work or any pain and suffering caused by the injuries received from the accident. If you or a loved one was affected by a trucking accident, contact the experienced attorneys at Fears | Nachawati Law Firm by sending an email to mn@fnlawfirm.com or by calling our office at 1.866.705.7584.
About the Author
Majed Nachawati is a preeminent personal injury lawyer with a focus on representing victims and families involved in automobile accidents, wrongful death cases, and product liability claims throughout the state of Texas. Mr. Nachawati has resolved numerous workplace motor vehicle accident cases through trial and settlement that have brought seven and eight figure confidential reward settlements. His is on the Grievance Committee for the State Bar of Texas. He is licensed to practice before the Supreme Court of Texas and Arkansas and is licensed in the Northern, Southern, and Eastern Districts of Texas. Mr. Nachawati is a member of the Board of Directors of the Texas Trial Lawyers Association, the Board of Directors for Public Justice, a Leader's Forum and PAC member of the American Association for Justice. Mr. Nachawati has been recognized as a Super Lawyer in Texas Monthly Magazine for the past five years in a row for legal excellence, in connection with wrongful death and products liability cases. Mr. Nachawati is also a member of The Million Dollar Advocates Forum. Mr. Nachawati can be contacted by email or by calling 1.866.705.7584.