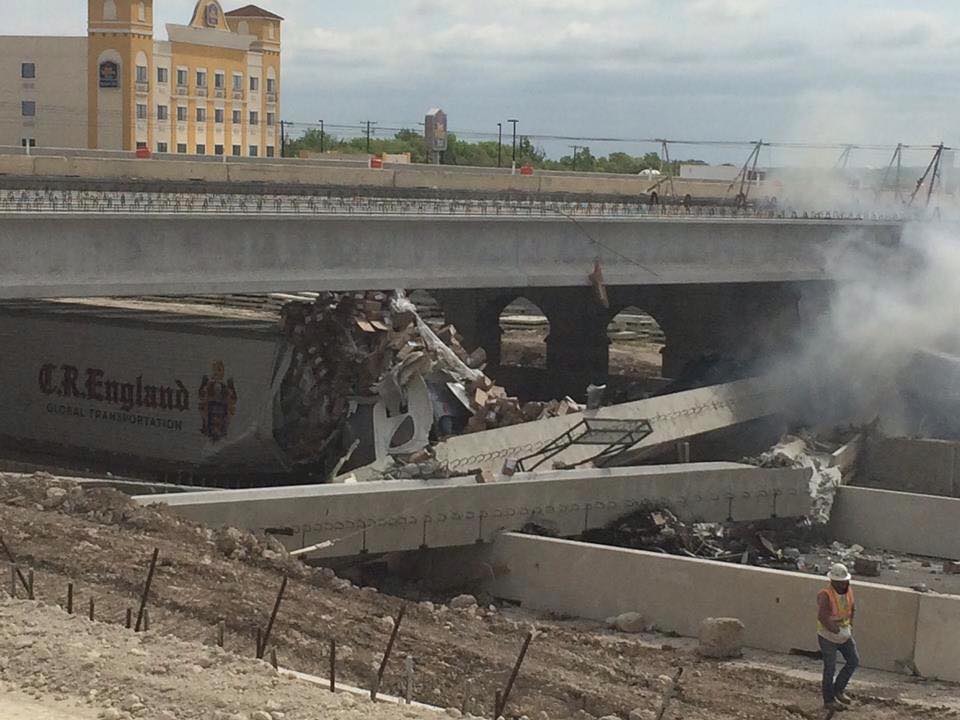 SALADO, TEXAS, MARCH 2015 – A truck driver hauling a boom lift ignored warning signs for a bridge on I-35 at FM 2484 and struck the bridge, killing 32-year-old Clark Brandon Davis from Arlington, Texas and injuring three others. The impact with the overpass caused beams to fall onto other vehicles. Three signs prior to the overpass had warned the 41-year-old truck driver for Lares Trucking, Valentin Martinez, that the bridge clearance was 13 feet 56 inches. In fact, the bridge height was over 14 feet, but the warning signs are designed to give some room for error. Oversized vehicles are required to take alternate routes when the low clearance signs are present. All lanes were closed for several hours after the accident. In total, five vehicles were damaged when beams from the bridge fell after the impact. In May, 2015, the DPS report concerning the accident found the truck driver to be at fault due to not paying attention while hauling an illegally oversized load.
Legal Commentary
The families of trucking accident victims should consult with an experienced personal injury and/or wrongful death attorney to file claims against the parties at fault to help the families pay for costly medical and funeral expenses. Our firm represents individuals and families who are affected by motor vehicle accidents. Although no monetary amount can compensate for a lost loved one, a successful civil claim against the at-fault driver will enable the victim's family to cover any medical or final expenses, leaving them more time to focus on the grieving process during this trying time. If you or a loved one has been affected by a trucking accident, contact the experienced attorneys at Fears | Nachawati Law Firm by sending an email to
mn@fnlawfirm.com
, or by calling our office at 1.888.630.4412.
About the Author
Majed Nachawati is a preeminent personal injury lawyer focused on representing victims and families involved in automobile accidents, workplace accidents, wrongful death cases, and products liability claims in Texas statewide. Mr. Nachawati has successfully resolved numerous trucking accident cases and motor vehicle accident cases, resulting in seven and eight figure confidential reward settlements. He serves as a board member for many prominent legal organizations, including: the Board of Directors of the Texas Trial Lawyers Association, the Board of Directors for Public Justice, a Leader's Forum, as a PAC member of the American Association for Justice, The Million Dollar Advocates Forum and the Grievance Committee for the State Bar of Texas. For six consecutive years, Texas Monthly Magazine
named Mr. Nachawati as a Super Lawyer
. Mr. Nachawati is licensed to practice before the Supreme Court of Texas and Arkansas. He holds additional licenses in the Northern, Southern, and Eastern Districts of Texas. Mr. Nachawati can be contacted through his website at
cases.fnlawfirm.com/auto_injury
, by
email
or by calling 1.888.630.4412.